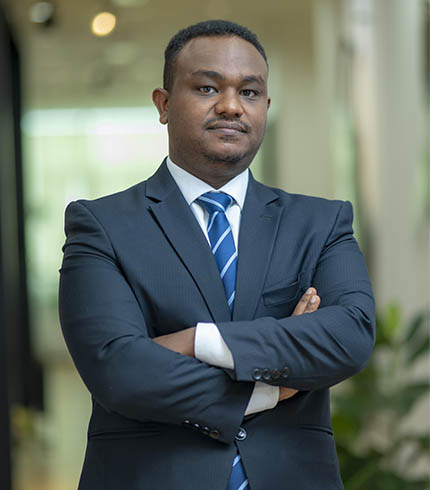 Tax and Customs: Litigation
Handled tax cases for various multinational clients at all tax dispute settlement levels ranging from internal review departments to the Federal Supreme Court;
Represented a major United States management consultancy company on its corporate tax and Value Added Tax disputes against the Ethiopian Tax Authority;
Provided representation services to defend tax assessment notifications received by a leading brewery in Ethiopia and succeeding in bringing down close to 70% of the initial tax assessments;
Assisted a multinational Chinese construction company in Ethiopia assessed with close to USD 50 Million tax liabilities by the Ethiopian Tax Authority and successfully litigating the matter against the Tax Authority and finally managing to have the company's overall tax liabilities lowered to under USD 12 Million;
Assisted multinational companies involved in manufacturing of construction chemicals, food processing and production of paint on their customs related disputes.
Tax and Customs: Advisory
Advising several international and local Clients on the Ethiopian tax treatment of their contemplated transactions;
Advising clients on Ethiopian import and export requirements and related incentives.
Tax and Customs: Training
Authors the Ethiopian Chapters of the Bloomberg Tax's Country Guides (a guide to major taxes in 223 jurisdictions) and VAT Navigator (a guide to VAT/GST/Sales Tax) in the same jurisdictions.
Preparing training materials and internal tax control manuals;
Conducting tax training for clients and membership associations upon request.
Offered expert opinions on draft tax laws of Ethiopia (most recently the draft VAT law).
Mergers and Acquisitions
Conducted full-fledged legal due diligence in the acquisition by a major United States multinational company of interest in a local food processing Company;
Assisted a major French multinational brewery and winery in the acquisition of a local brewery from a British multinational engaged in the same sector;
Conducted a legal and tax due diligence in the acquisition of a local logistics company by a major French multinational transport and logistics enterprise;
Conducted a legal due diligence for an Israeli seed manufacturing company and drafting transactional documents in the acquisition of an Ethiopian target engaged in the same sector.
Corporate and Investment
Advised a French company engaged in manufacturing of nutritional foods on creating an efficient corporate governance in its local subsidiary;
Assisted a major Spanish construction company and several others on establishment and operation of Project Offices in Ethiopia;
Consulted and represented an American printing company, a Japanese company engaged in road construction and a Lebanese technology company on their respective disputes with various Ethiopian governmental authorities and succeeding in getting satisfactory out-of-court solutions.
Conducted a limited due diligence for an Italian JV on a construction project in Ethiopia;
Competition
Worked on a competition based litigation involving multinational bottling companies and prevailed against the government's competition Authority;
Assisted Italian and Canadian entities involved in the aviation sector on their merger filings in Ethiopia and succeeding in securing a competition clearance;
Assisted two Irish companies involved in the aviation sector on their merger filings in Ethiopia and succeeding in securing a competition clearance;
Advised two major meter taxi technology providers and several other clients on Ethiopian competition laws;
Sports and Entertainment
Conducted a full jurisdictional due diligence on the legal and institutional frameworks of the Ethiopian lottery and sports-betting sector for several clients;
Incorporating and securing a sports betting permit for various clients;
Developed a technical services provision arrangement for a Czech Republic based sports-betting company to provide its services for an Ethiopian betting business.
Criminal Law
Defended diplomatic staff of foreign country embassies in Ethiopia on their involvement in negligent crimes on a couple of separate occasions;
Regularly advising corporate clients on their questions regarding Ethiopian criminal law and procedures.