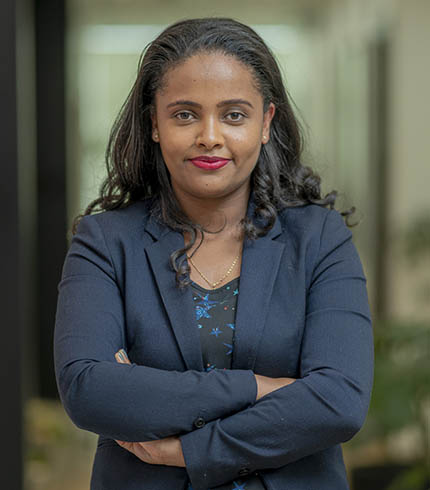 Sisay Habte Gemeda
Of counsel
Corporate & Commercial
Advising a garment manufacturer on Ethiopian investment law, commercial registration, business licensing and post-registration regulatory issues;
Advising on and processing the incorporation and registration of an Israeli certified seed manufacturer in Ethiopia;
Drafting bylaws, resolutions, PoA's and a variety of agreements including lease agreement, distribution agreements, franchise agreements etc.
Incorporating and registering various forms of business entities, i.e. subsidiary (private limited company or Share Company), branch of a Foreign Company, project office of foreign company and commercial representative office of a foreign companies.
Advising the board secretary of a Japanese manufacturer in Ethiopia on the process of calling meeting, quorum and majority requirements, organizing and attending meetings, as well as ensuring all minutes requiring notarization are duly notarized.
Mergers and Acquisitions
Advised a German construction materials manufacturer on the acquisition of 70% equity interest in a domestic construction materials manufacturer;
Advised a domestic manufacturer of soap and detergent in the acquisition of 100% equity interest in another detergent manufacturing business;
Advising on the acquisition of 70% interest in a domestic tobacco manufacturer by a Japanese Tobacco company;
Advising on various intra group share transfers of various companies;
Advising on the permits and approvals required to complete a successful merger in Ethiopia; and
Advising clients post-merger and acquisition on various matters that may arise.
Embassies and Non-Governmental Organizations
Advised an Embassy on the acquisition of due title for its properties;
Advised Embassy's in the negotiation, drafting and execution of lease agreement for their delegates and chanceries;
Advised a UK based NGO on the establishment of a country office and a regional office in Ethiopia. The assignment also involved drafting and negotiating a framework agreement to be used by the regional office.
Advised a US based NGO on the registration of its project in Ethiopia.
Advised several NGOs on benefits and risks of incorporating a charitable organization in Ethiopia, procedures, compliance and approval requirements; and
Advised a foreign NGO registered in Ethiopia on engaging in business and establishing a for-profit entity in Ethiopia.
Competition
Advised a Japanese manufacturing company on anti-competitive behaviors restricted under Ethiopian law;
Reviewed distribution agreement for a multinational bottling company on the regulation of distribution agreements under Ethiopian law including any restriction of selling price and territorial limits;
Prepare and submit merger notification on behalf of a French alcoholic beverage manufacturer to the national regulator;
Advised a French alcoholic beverages manufacturer on the merger notification process of the COMESA Competition Commission;
Assisted a major logistics company in merger approval for share acquisition in a local logistics company; and
Advised a private equity on the process and documentation required in its acquisition of interest in a ceramic manufacturing business.
Mining
Advised and assisted an Indian Mining Company with incorporation and applications for exploration and mining licenses;
Conducted due diligence on a chromite mining company in Ethiopia;
Conduct limited due diligence on a gold mining license holder for the purposes of transfer of the license;
Advised a Chinese mining company on the regulatory approvals required to acquire an existing license through transfer, the acquisition of interest in existing mining businesses and processing the merger and acquisition;
Advised a Scandinavian mining company on the ESG requirements under Ethiopian law;
Advised a Dubai FTZ area mining company on the transfer of its interest in an Ethiopian Company;
Advised a Canadian based mining company on establishing a legal entity, application for exploration license as well as negotiation and execution of joint venture agreement with a renowned local mining company; and
Advised an oil and gas company operating in Ethiopia on the termination of its Petroleum Production and Sharing Agreement as well as the liquidation of a company engaged in the exploration of oil and gas.
Insurance
Advise a Dutch insurer on the legal consequences of issuing insurance policy to Ethiopian residents; and  
Advise a global insurance broker on the provision of certain insurance products in Ethiopia and the restrictions on foreign insurers under Ethiopian law.
Advised an EU based reinsurer on the requirements to provide reinsurance policy coverage in Ethiopia;
Conducted a jurisdictional due diligence for a South African Insurance company on the banking and insurance sector regulation in Ethiopia;
Review Insurance policies for clients looking to purchase insurance policies including but not limited to political violence and terrorism, fire and burglary, and workmen's compensation;
Conducted a legal due diligence and provided a report in a number of M&A transactions including coverage of insurance policies held by the target, scope of cover, status and mandatory insurance policy covers required;
Advised a large flower producer with an insurance claim for damage sustained due to political violence and representing the same before court;
Real Estate
Advised a US based diplomatic housing development company in drafting transactional documents and processing property title transfer;
Conducted a legal due diligence and provided a report on a potential property to be acquired by a Greek based manufacturing company;
Conducted due diligence and investigation on the property to be acquired, draft LOI and transactional documents, negotiate and assist in signing the lease agreement and finalize all the required processes for the title transfer of property;
Assisted a local luxury real estate apartment developer in structuring the financing and title transfer transaction documents;
Advised a luxury real estate developer in drafting sale and purchase agreements, assisted in negotiations, and advised on compliance requirements;
Reviewing lease agreement between a diaper manufacturer and IPDC, negotiating and executing the lease agreement;
Reviewed lease and mortgage documents, title deeds, financing structures as part of legal/jurisdictional due diligence investigations and advised on several real estate transactions; and
Prepared, reviewed and negotiated multiple commercial lease agreements for commercial entities, embassies and NGO's.
Private Equity
Advised a private equity on the regulatory process of acquiring a stake in an Ethiopian company.
Conducting a legal due diligence investigation on an FMCG company for the purposes of acquisition of a majority stake by a Private Equity firm;
Drafted transactional documents including Letter of Intent, Term Sheet, Shareholders Agreement and the bylaws for the JV Company.
Advised on whether a share or asset transfer model would be preferred in the case that involved an existing detergent manufacturing facility by a Kenyan private equity firm.